Parties & meetings 
We believe that a creative environment and surroundings contribute to a success-ful meeting, no matter if it is a party or a meeting. At our place you have the whole farm and surroundings at your disposal and as a source for inspiration. We have numerous of natural meeting places; the kitchen and forest garden, green house, the barn, gracing fields and the old forests that lead all the way down to lake Unden. You may also gather in the tipis around the open fire or if you whish, in the sauna.
Accommodation with self catering is available for up to 17 people in double, triple and quadruple rooms.  You will have free access to all facilities, such as a modern and well equipped kitchen with seating for up to 20 people. yoga- and meditation room and sauna.
Book:
Call or send an e-mail to let us know what your plans are for your meeting, familiy gathering or party. We will come back with a proposal according to your needs and whishes.
Martha mobile: +46762090945
e-mail: martha@marthaochanders.se
Price:
5800 SEK/night. Bed linen and bath towel can be rented for 100 SEK/person. Below you will find proposals on activities that you might want to add to your reservation.
If you want help with food we can recommend you to contact Jocke and Mia in the Tiveds Lanthandel for catering. Please contact them for menu proposals, +46 584474015, info@tivedslanthandel.se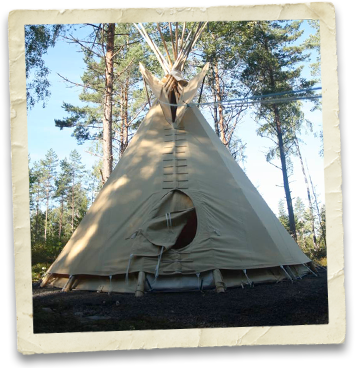 additional inspiration
A guided tour around the farm
We will talk about our holistic ecological thinking when it comes to our forest garden, forestry without clear fellings, solar energy, and the food we are cultivating and eating.
Silent hike along the waterside of Unden
A one-hour quite hike guided by Anders along the waterside of Unden, a great opportunity for the participants to reflect upon the conversations during the day.
Qigong or Yoga
A 30-60 minutes Qigong or Yoga class led by Anders, either inside or outside. Depending on the weather and your wishes.
Evening meeting by the fire in the Tipi
Continue the meeting by the fire in our Tipi.

photos